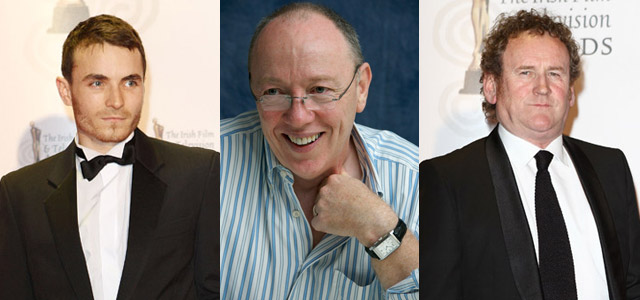 IFTA MEMBERS GOT WHOLE LOTTA SOLE
WHOLE LOTTA SOLE
Director / Writer
Terry George
(Directing Chapter)

Cast
Brendan Fraser
Colm Meaney (Acting Chapter)
Martin McCann (Acting Chapter)
Yaya DaCosta
David O'Hara

Crew
Des Whelan (DOP)
David Craig (Production Designer)
Hazel Webb Crozier (Costume Designer)
Nick Emerson (Editor)
Foy Vance (Composer)

Producers
Mark Huffam
Simon Basanquet

Locations
Belfast, Northern Ireland

IFTA Members Terry George, Colm Meaney and Martin McCann have begun filming a new feature Whole Lotta Sole in Belfast.
Two members of IFTA's acting chapter, Martin McCann and Colm Meaney started shooting scenes for Whole Lotta Sole on Friday April 8th.  The film is shooting in Belfast and is being directed by Irish Oscar nominee and Member of IFTA's directing Chapter, Terry George who has penned several successful films such as Hotel Rwanda and In the Name of the Father.
Whole Lotta Sole sees US actors Yaya DaCosta (The Kids are All Right) and Brendan Fraser (Crash, The Mummy) play on-screen couple Sophie and Joe. The pair, along with a baby and two ten-year old tearaways, are taken hostage in Joe's antique shop by Martin McCann's young gunman, Jimbo. The plot thickens as Jimbo is pursued by Colm Meaney's police detective Weller after a botched robbery at a Belfast fishmongers owned by gangland boss Mad Dog Flynn, played by Irish actor David O'Hara.
Director Terry George claimed two IFTA wins in the 2003 Awards for Best Director and Best Script for Film for the gritty feature, Hotel Rwanda. The writer and director has been a key figure in Irish film production throughout the years, bringing us features such as In the Name of the Father, Some Mother's Son and The Boxer.
The film's producers, Generator Entertainment's Mark Huffam and Simon Basanquet have seen their fair share of IFTA nominations, producing IFTA shortlisted projects such as Cherrybomb, and Evelyn with Mark Huffam behind the IFTA winning Northern Irish black comedy, Mickybo and Me. That film received five nominations in total in 2005 and a statuette was picked up costume designer Hazel Webb Crozier who has returned to work with Huffam on Whole Lotta Sole. Hazel Webb Crozier has created the looks for dozens of IFTA nominated projects including Closing the Ring and the IFTA winning The Mighty Celt.
"Irish crews work in tough conditions all year"
Colm Meaney, February 2011
Whole Lotta Sole stars Member Colm Meaney who was present at this year's IFTA Awards ceremony as an acting nominee for his lead role in Ripple World Pictures' Parked. He also presented the award for Supporting Actress – Television to Ruth McCabe for her work in Single-Handed.
| | | |
| --- | --- | --- |
| | | See Colm's heartfelt IFTA statuette presentation to his former Snapper co-star Ruth McCabe at the 8th Annual IFTA awards ceremony - get clip |
| | | |
| --- | --- | --- |
| | | Click here to see a red carpet interview with Colm Meaney, Pierce Brosnan, Amy Huberman and Saoirse Ronan - get clip |
"I might have a Guinness and see where the night takes me!"
Martin McCann discusses his plans, post IFTA win, February 2011
Fellow IFTA member Martin McCann was slightly overwhelmed at this year's Awards ceremony as Sex and the City star, Kim Catrall presented him with the IFTA for his lead role in off-beat feature, Swansong – Story of Occi Byrne.
| | | |
| --- | --- | --- |
| | | Hear what Kim Cattrall sees as an ideal leading man and to hear Martin McCann's heartfelt acceptance speech - get clip |
| | | |
| --- | --- | --- |
| | | See an interview with Martin and Kim Catrall backstage at the awards ceremony - get clip |
IFTN
"Even in my audition for the film I got a real sense that this is one director and writer with more talent in his baby finger than I have in my entire body. Its nice to know your working with someone that will up your game."
Martin McCann speaking with IFTN about working with Terry George on Whole Lotta Sole
For more production details about Whole Lotta Sole and to read more of Martin McCann's excitement as to his involvement with the feature, read IFTN's recent news piece about the film - read it here