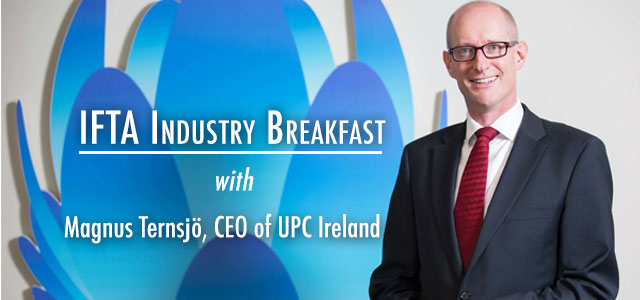 IFTA INDUSTRY BREAKFAST

This morning the Academy hosted an IFTA Industry Breakfast with Magnus Ternsjö, CEO of UPC Ireland. Magnus was delighted to meet with IFTA Members made up of industry representatives, distributors, stakeholders, Producers and Directors to hear first-hand about developments in Irish film and television content across the industry. In his address Magnus cited opportunities for Irish content across a range of UPC platforms, in particular My Prime, along with a very interesting insight to UPC developments along with some staggering statistics to whet the appetite.Magnus was introduced by IFTA CEO Áine Moriarty and engaged in a Q & A after his address.
See Magnus's full address below:
Introduction
Thank you Áine and good morning everyone. I'm delighted to be here today and to have the opportunity to meet Academy Members this morning and to speak at this IFTA Industry Breakfast.
By way of introduction, I work for UPC Ireland which is part of Liberty Global, the largest international cable operator. UPC employs more than 1100 staff here in IE directly and indirectly and delivers over 1.1 million TV, broadband and phone services into Irish homes every day. In the ten plus years we have been here, we have invested well over a billion euro in our business and that investment has gone into two key areas: upgrading the cable network to a true next generation access network and in investing in our product portfolio. As a result, we were Ireland's first triple play provider which means we have a long history in being at the confluence of the audio-visual and telecoms sectors. That puts us in a fairly unique position of being able to provide insights into emerging trends and shifts in consumer consumption patterns - some of which I propose to share with you today.
Current trends
At a headline level, the good news is content is still king and there is no suggestion that that will change anytime soon, although we do see some shifts in how content is consumed. The other piece of good news is that despite the explosion of content, whether linear, on demand, user-generated or otherwise, there is still an insatiable demand for home grown content, but before I delve into that in more detail, I'd make the following general observations about the TV market in Ireland.
First of all, the TV market is as strong as ever: 93% of homes have a TV and the average viewing time is over 3.5 hours daily.
Live linear viewership accounts for 77% of consumption with linear recordings accounting for a further 8%. The remainder is made up of on demand and user generated content such as You Tube.
Back at home, Ireland continues to maintain consistently high levels of pay TV penetration, with over 71% of all homes subscribing to a pay TV provider. This is not to say the TV content market has remained static. As you very well know, the industry is constantly investing in new content and continually exploring new ways to bring content to market. And we at UPC are always looking at new ways to ensure our customers can watch what they want, where they want.
That is why we introduced a product like UPC's Horizon TV, which at time of launch, was a revolutionary device for the Irish market. This product enabled subscribers to record 4 channels simultaneously, while watching a 5th. To date, over 130,000 UPC customers have Horizon TV which reflects the insatiable demand Irish consumers have for TV content and allow for flexible TV viewing. In fact, the rate of take up of the service in Ireland is the highest in the 5 Liberty markets where the product is available. This coupled with a number of other game changer services such as Horizon Go, which enable users to watch content on devices other than TV both in and out of the home, reflects the love the Irish have for all things TV! Horizon Go is a true industry game changer as it is the only Irish TV app that allows customers watch all the best local channels and the best of international content, coupled with all our My Prime content on the Go.
In recent years, we have also seen the emergence of what we call in the industry, the over the top providers which is the term we attribute to companies like Netflix. Given the strong product offering that is already available, you would have thought there was more than enough to meet demand. Not so it would seem. Once again, Ireland leads the posse, with the level of uptake of Netflix in Ireland being the highest in the Liberty markets where the service is available. And to give you an insight from another perspective, a staggering ¼ of the monthly data traffic on UPC's broadband network is attributable to our subscribers consuming Netflix content!
This explosion in data traffic is reflected in figures from INEX that indicate that between 2009 and 2014, Ireland's monthly internet traffic had grown by a multiple of 12 times and in percentage terms that's a whopping, 1000%. So as you can see, demand by Irish TV viewers shows no sign of slowing down and demand for good content and high resolution material is obviously a contributing factor. You would be forgiven for thinking that this must make it even more difficult for Irish content to compete for audience share. However Irish content is more popular than ever.
The huge demand for home grown content is borne out by the fact that on a monthly basis, over a fifth of UPC customers access RTE content via the RTE player and 3 of the top 5 most viewed movies on the UPC platform were Irish films that included 'The Guard', 'What Richard Did' and 'The Garage'. So while we're not surprised, we are really delighted to see local content more than hold its own in a market that is growing so exponentially. For its part, UPC has always been a strong support of Irish content. We were the first to launch Oireachtas TV free of charge providing the service at no cost to the Exchequer. And we are the only pay TV provider to offer carriage to the Dublin and Cork Community channels.
Commercially speaking, we've always had strong partnerships with Irish broadcasters. We are constantly exploring ways that harness the capabilities of our cable network by introducing new and innovative services that showcase the best of Irish content. In this regard, since 2012, we have been the only pay TV provider that provides access to the RTE and TG4 players. And we don't plan on stopping there - we hope to be able to announce the launch of other players in the very near future. So as you can see, UPC is an ardent supporter of Irish content. And supporting indigenous content providers was one of the key drivers behind the launch of the My Prime service in March this year. The service, which is free to UPC subscribers, is similar to Netflix but includes a vast array of Irish movies, box sets, and children's content such as Love/Hate, Damo & Ivor and Raw. The level of interest in Irish content is again demonstrated by the fact that over 25% of those that can access the My Prime service have chosen to do so on a monthly basis since launching in March. These users have consumed an average of 360k streams per month. And interestingly, 3 of the top 5 most viewed box sets and movies, are Irish titles. Take it from me; these statistics reflect incredible demand for local content!
There has never been a better time to be in the business of producing home grown content. So if any of you here today are interested in having a chat, we're always open for business and feel free to approach myself or members from our content team - Bill, Andy and Shane who are in the audience, with any ideas you might have!
Future Trends
I've spoken about current market trends, but I'd like to turn now to where we see the market evolving to. As I mentioned earlier, a considerable portion of our investment to date has been in upgrading our cable network. This means that we are in a position to offer the fastest broadband speeds in the land and our network is future proofed to offer even higher speeds if we so choose and market demand exists. This means that our network capability, coupled with the broadband speeds on offer, allow us to be at the heart of the digital entertainment experience in the home. As some of you may be aware, over the past few years, we produced two reports on Ireland's Digital Economy in conjunction with Amarach Research. The first of these was published in 2012 and the second in 2014. The reports presented findings from a consumer and business survey on a wide range of topics. The surveys included UPC and non UPC customers, so were a representative sample of national consumer sentiment. The fact that we produced two reports allowed us to compare data between the first and the second, and identify emerging trends in the marketplace. Some of the more interesting statistics reflecting shifts in consumer behaviour are as follows:
Between 2012 and 2014, there was almost a three-fold increase in the homes that had a Smart TV and a tablet/iPad. Clearly, the explosion in devices mean consumers can find new ways to access content. This was reflected in a 34% increase in the number of homes that used their TV, or a device connected to their TV, to access an on demand service. Another astounding shift in consumer behaviour related to the number of homes that had 6 or more internet enabled devices in the home. This jumped from 9% in 2012 to 32% in 2014. And all this in 2 years! As you would expect, TV consumption patterns are also changing with 79% of viewers indicating they are on a laptop/table/smartphone while also watching TV. With all this change and an ever constant demand for content you might ask what next for TV?
Well, from a UPC standpoint, we will hope to launch Replay TV very soon. This is a service that will allow customers to access our EPG up to 7 days in the past, which means customers can catch up on any content they may have missed. This is a prime example of introducing a service that harnesses the capability of our network, whilst responding to consumer demand.
We will also launch 'Start-Over', a service that will allow customers to watch a programme that has already started and watch it from the beginning. These customer friendly technologies have been available for quite some time. The delay in bringing some of them to market has been due to rights clearance matters. Now, can I say upfront, I'm in the pay TV business so I get the importance of protecting copyright material. And I also get the complexities associated with the clearing of rights. But if I was to leave you with one ask today, it would be if content and platform providers could find more expeditious ways to bring content to the market so that we can all benefit, from the incredible opportunities that modern technologies present. On a final note, I would mention that we are actively looking at the advertising space to determine if we can introduce services that are mutually beneficial to advertisers and ourselves, and at the same time offer a better, more targeted entertainment service to our subscribers. In this regard, we recently launched a Dynamic Ad Insertion solution that allows content owners to insert ads in video on demand assets.
Conclusion
UPC has always been in the business of responding to consumer demand and providing more choice through constant innovation.That has been the key driver behind the introduction of new products services such as Horizon TV, Horizon Go and My Prime that respond to consumer demand as well as appeal to new audiences. I consider myself very fortunate to be able to work at such an exciting time for this sector. In conclusion, I would like to take the opportunity to thank those of you with whom we have forged a strong partnership with and in offering a truly compelling content offering to UPC's subscribers. And I look forward to developing our mutual strengths to create many opportunities that will benefit our entire industry.
Finally, I wish all of you continue success for the future in this incredibly exciting market space.
-End-

UPC on Facebook