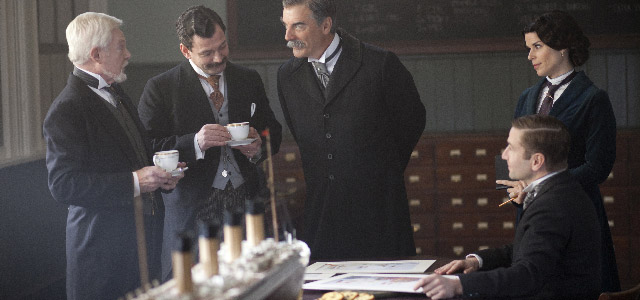 TITANIC: BLOOD AND STEEL Preview PLUS Q&A with Ciaran Donnelly and Paul Myler
event DETAILS
When:
Tuesday 10th April
6:30pm Sharp

Where:
IFI Eustace Street Dublin 2.

All seating is unreserved

Contact info:
+ 353 1 6624120
membership@ifta.ie


IFTA was delighted to invite its members to preview screening of Titanic: Blood & Steel on Tuesday, 10th April at 6.30pm in the IFI Eustace Street Dublin 2. This preview screening was followed by a Q&A with director Ciaran Donnelly and producer Paul Myler.

View images from the Screening and Q&A in the gallery here

Directed by Ciaran Donnelly, Titanic: Blood and Steel is an epic 12 part series charting the extraordinary story of RMS Titanic's construction in the shipyards of Edwardian Belfast, and a chronicle of the lives of the people who built the ship and whose fates were inextricably bound to her destiny.

Synopsis
the series depicts the story of the dreams and ambitions of Titanic owner JP Morgan (Chris Noth) to build a ship of unparalleled size and luxury, the struggle of Lord William Pirrie (Sir Derek Jacobi) Chairman of Harland & Wolff, to balance the needs of his shipyard and his own political ideals. Through the fictional character, Mark Muir (Kevin Zegers) a metallurgist who comes to Belfast to work on the ship, we are taken to the heart of the Titanic and the society that built her. This cultured young Englishman raises a series of valid questions about commercial ship building at this time, the 'double hulling' of ships and the quality of steel used in their construction. However, Mark hides dark secrets that may destroy him first.