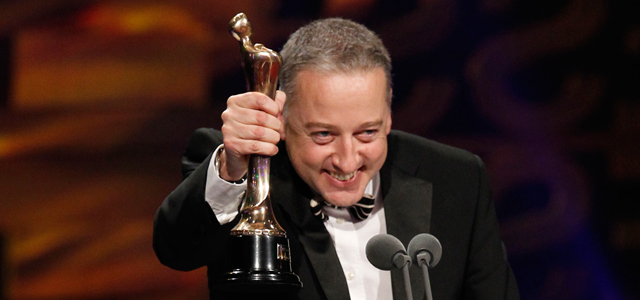 in conversation with... SEAMUS McGarvey
plus marvel's THE avengers assemble' IRISH premiere
EVENT DETAILS


In Conversation with... Seamus McGarvey
When:
24th April 2012

Where:
IFI, Eustace Street, Dublin

Marvel's Avengers Assemble
When:
23rd April 2012

Where:
Savoy Cinema Dublin

All seating is unreserved

Contact info:
+ 353 1 6624120

membership@ifta.ie
IFTA was delighted to welcome Members of Irish Film & Television Academy's Cinematography Chapter to an exclusive 'In Conversation With...' Irish cinematographer Seamus McGarvey

View images from the Screening and Q&A in the gallery here .

As part of this event IFTA also had a number of tickets to the Irish Premiere of Marvel's The Avengers Assemble, Seamus McGarvey's most recent work, taking place on Monday 23rd April at 7.00pm in the Savoy Cinema, O'Connell Street.
Multi Award-winning cinematographer Seamus McGarvey (Avengers Assemble, We Need To Talk About Kevin, Atonement) will be the subject of this Masterclass as part of the IFTA Chapter Focus Event.
Born in Armagh in Northern Ireland, Seamus McGarvey began his career as a stills photographer, quickly progressing to cinematography by shooting short films and documentaries. His early work swiftly gained him notoriety in the film industry, resulting in him being nominated for the Turner Prize and working with celebrated directors such as Sam Taylor-Wood.
In 1998, Seamus McGarvey became the youngest member of the British Society of Cinematographers, and won the Royal Photographic Society's prestigious Lumière medal for contributions to the art of cinematography. Throughout his 24-year career, he has worked on Academy Award-winning drama Atonement gaining him an Oscar nomination. McGarvey has won IFTA Awards for Best Cinematography in 2005 for adventure film Sahara and most recently for the acclaimed adaptation of We Need to Talk About Kevin. He has also worked on various commercials including Chanel, with Atonement director Joe Wright, and will collaborate with the director again on the upcoming adaptation of the Tolstoy classic Anna Karenina.
IFTA Academy members will have a rare opportunity to hear first-hand from Seamus about his work on these productions, including his most recent work with director Joss Whedon on Marvel's Avengers Assemble.
Here's the official trailer: