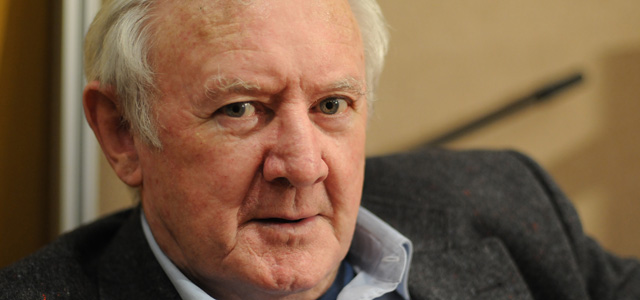 Niall TÓibÍn, A Life on Screen
an exclusive ifta tribute event
event DETAILS
When:
3 Novemberer 2011, 6.30pm

Where:
Irish Film Institute,
6 Eustace Street,
Temple Bar,
Dublin 2

All seating is unreserved

Contact info:
+ 353 1 6624120
membership@ifta.ie



With thanks to




Libraries and Archives
The Irish Film & Television Academy (IFTA) is delighted to announce details of this 2011 Academy Tribute Event on Thursday, November 3rd 2011.
Mr. Niall Tóibín will receive the Irish Film & Television Academy's Life On Screen Lifetime Tribute Award, celebrating the beloved Irish actor's screen achievements throughout a versatile career that has delighted audiences for over five decades.
Officially acknowledging Niall Tóibín's lifetime contribution to the screen arts, this IFTA Tribute will take place at the Irish Film Institute where friends, colleagues and specially invited industry guests will join Niall and his family for the evening's celebrations.
About Niall Tóibín
The Irish Academy is proud to have this opportunity to pay tribute to Niall's career, looking back on his performances in television such as Edward Daly in the 1970's drama Bracken, where he starred alongside a young Gabriel Byrne, Slipper in the popular 80's comedy drama The Irish R.M., John Lively in the drama Stay Lucky and, of course, one of his many turns as a cleric in the award-winning RTÉ/BBC series Ballykissangel. Niall's television career also includes many performances on The Late Late Show, and the satirical shows Time Now Mr T, and If The Cap Fits along with many televised performances of his definitive portrayal as Brendan Behan.
Niall's feature film career has seen him play an array of memorable characters including Tom Cruise's father in Ron Howard's Far & Away; Judge Ballaugh in Joel Schumacher's Veronica Guerin; a poteen-maker in Bob Quinn's 1978 Poitín and as islander Seán alongside Pierce Brosnan in Eugene Brady's The Nephew. Niall has most recently appeared in RTÉ's The Clinic; with his screen credits including Murphy's Stroke, RAT, The Ballroom of Romance, King of the Castle, Brideshead Revisited and Frankie Starlight amongst others.
Leading the IFTA Academy's Tribute and hosting this intimate In Conversation With Niall Tóibín will be his friend and Lifetime IFTA Member, Gay Byrne. IFTA will honour the 81 year-old Irish actor with Lifetime Membership of the Irish Film & Television Academy (IFTA) and will present him with a Lifetime Achievement Award.
With thanks to Gay Byrne, Niall Tóibín and New Decade productions. Photo Barry Delaney