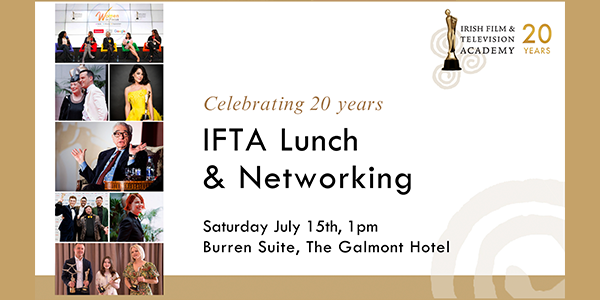 Galway Film Fleadh - Members' Networking

GALMONT HOTEL
SATURDAY 14 JULY
The Irish Film & Television Academy invites you to its annual IFTA Networking Lunch at the Galway Film Fleadh, July 15th, 2023.

You are invited to enjoy some delicious Food, Drinks and Networking with fellow Academy Members and key industry Fleadh delegates, at the Galmont Hotel in Galway, lunchtime on Saturday 15th July.

It's been a busy year thus far with our series of Irish Screen Discussions in the lead up to the 20th Anniversary IFTA Awards, masterclasses with industry talent including John C. Reilly and special Lifetime Achievement Award recipients Joan Bergin and Dame Judi Dench, and more exciting events, screenings and workshops in the months ahead.

This special lunchtime event is a wonderful opportunity for our Academy Members and key Fleadh delegates to meet in a relaxed and informal setting, at the heart of the festival's industry activities.

This event is now at capacity.