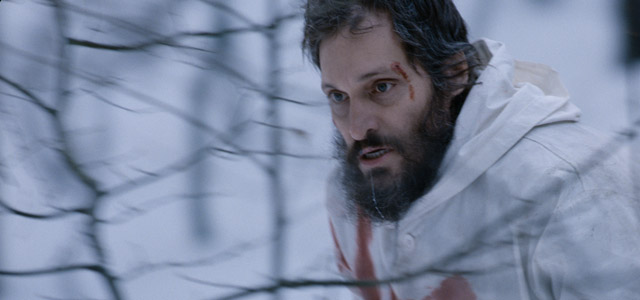 ESSENTIAL KILLING EXCLUSIVE PREVIEW SCREENING
FOR YOUR CONSIDERATION AT THE 8TH ANNUAL IRISH FILM & TELEVISION AWARDS
event DETAILS
When:
30 November 2010
& 15 December 2010

Where:
30th Nov - Cineworld, Parnell Street, Dublin 1
15th Dec - Savoy Cinema, O'Connell Street, Dublin 1



All seating is unreserved

Contact info:
+ 353 1 6624120
membership@ifta.ie

IFTA is delighted to invite Irish Film & Television Academy Members to an exclusive Awards Viewing Season screening of Essential Killing.

Please note, DVD screeners are not available for this film. Viewing Season screenings will be your only opportunity to view the film.

FOR YOUR CONSIDERATION
8th ANNUAL IRISH FILM & TELEVISION AWARDS
ABOUT THE FILM
The film follows the story of Mohammed, who is captured by the US military in Afghanistan and transported to a secret military black site. When the army convoy he is riding in plummets off a steep hill, Mohammed finds himself suddenly free and on the run behind enemy lines. A hostile, snow-blanketed forest, gradually reveals to be somewhere in the wilds of Eastern Europe. Relentlessly pursued by the military, Mohammed must constantly confront the need to kill in order to survive.
PRAISE FOR ESSENTIAL KILLING

‎"Adam Sikora's images are a feast, whether in bright gold and yellow, when shot near the Dead Sea in Israel (standing in for Afghanistan), or in the mostly black-and-white Polish and Norwegian mountain forests."
Screen Daily

"his use of sound design and camera movement magnifies the starkness of the natural surroundings"
Time Out - London

FESTIVALS
Official Selection - Venice Film Festival
Official Selection - Toronto International Film Festival

AWARDS
Winner Special Jury Prize - Venice Film Festival
Winner Coppa Volpi for Best Actor for Vincent Gallo - Venice Film Festival