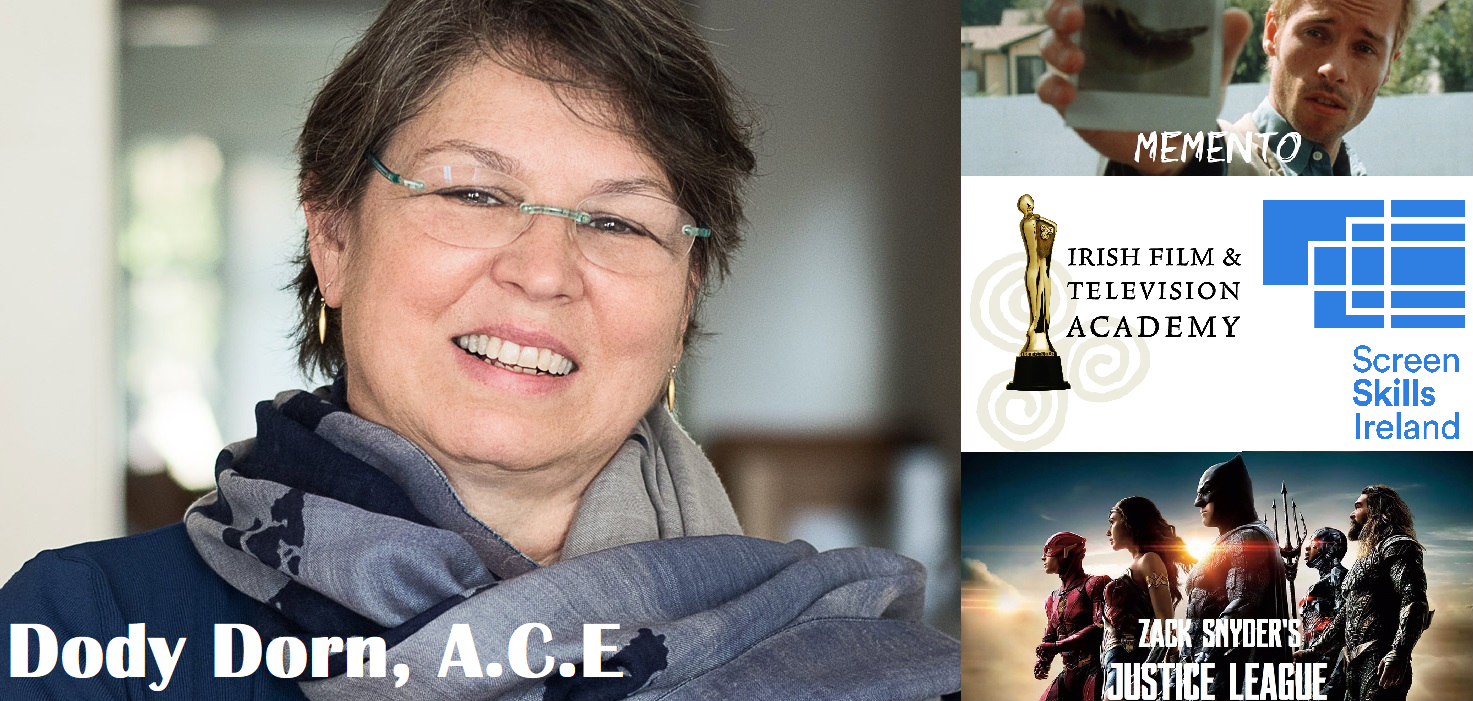 IFTA SKILLS IN FOCUS: EDITING
with Dody Dorn
Thursday, December 9th, 3pm
IFTA is delighted to welcome acclaimed Editor Dody Dorn for a special editing masterclass, in association with Screen Skills Ireland.
Dody Dorn, ACE is best known for her collaborations with world-class directors such as Christopher Nolan on Memento and Insomnia, Zack Snyder on Army of the Dead and Zack Snyder's Justice League, with Ridley Scott on three films including Matchstick Men and Kingdom of Heaven, with James Cameron on Terminator 2: Judgment Day (Directors Cut), and with David Ayer on Sabotage and Fury. Dorn's work on Memento received an Oscar nomination among several others nominations, and she won the Sierra Award from the Las Vegas Film Critics Society.

Dorn, who is also a well-known sound editor, will share the skills and techniques that have seen her become one of the world's leading editors, as well as talking us through a career that has lead to her working with some of the biggest directors in the world.

Topics Include:
• Storytelling and creating an emotional journey
• Finding the story in the footage & shot selection
• Structuring scenes and tone
• Creating drama and tension
• Collaborating with the Director
• Sound, Music & VFX
• 3 Key Points for Achieving Success
The Masterclass will be moderated by award-winning editor, director and author Declan McGrath.
McGrath is a Director, Editor, and is the author of Editing and Postproduction as well as other books on the craft of filmmaking published internationally by Butterworth Heinemann and writes for the New York cinematic journal Cineaste. Declan has lectured on film in both Queens University Belfast and University College Dublin.
Declan has produced and directed the documentary film 'Mary McAleese and The Man Who Saved Europe' for RTE and BBC as well as the series 'Seinn Liom' (2010) and 'Cad é an Scéal' (2011) for BBC Northern Ireland and the RTÉ-screened film 'Belfast Building' (2000).
An established film editor, Declan has cut numerous films over the past twenty years, including award-winning documentaries Harry Clarke: Darkness in Light (Celtic Film Festival), Martin Hayes: Natural Grace (Galway Film Fleadh) and Fairytale of Katmandu (Amsterdam Documentary Festival).
This will be an online Zoom Event - You will be sent the Zoom Access Link by email