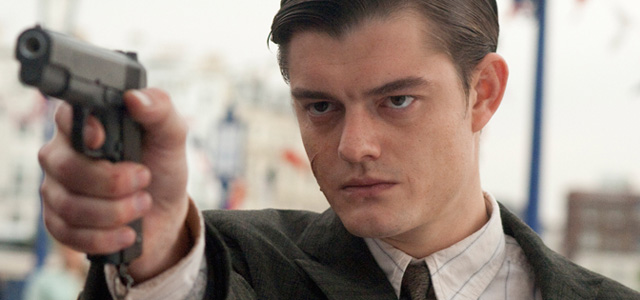 BRIGHTON ROCK EXCLUSIVE PREVIEW SCREENING
FOR YOUR CONSIDERATION AT THE 8TH ANNUAL IRISH FILM & TELEVISION AWARDS
event DETAILS
When:
18 December 2010

Where:
Light House Cinema, Smithfield, Dublin 7

All seating is unreserved

Contact info:
+ 353 1 6624120
membership@ifta.ie

With thanks to Element Pictures Distribution

The Irish Film & Television Academy is delighted to announce an exclusive Viewing Season screening of Brighton Rock.

Please note, DVD screeners are not available for this film.
FOR YOUR CONSIDERATION
8th ANNUAL IRISH FILM & TELEVISION AWARDS
ABOUT THE FILM

Adapted from Graham Greene's iconic 1939 novel, BRIGHTON ROCK charts the headlong fall of Pinkie, a razor-wielding disadvantaged teenager hell bent on clawing his way up through the ranks of organized crime. At the heart of the story is the anti-hero Pinkie's relationship with Rose - an apparently innocent young waitress who stumbles on evidence linking Pinkie and his gang to a revenge killing that Pinkie commits. After the murder, Pinkie seduces Rose, first in an effort to find out how much she knows and latterly to ensure she will not talk to the police. A love story between a murderer and a witness; can Pinkie trust Rose or should he kill her before she talks to the police? Can Rose trust Pinkie or is she next in line?
BRIGHTON ROCK features Sam Riley (On The Road, Control) as Pinkie, the fast-rising Andrea Riseborough (W.E., Happy Go Lucky and BAFTA nominee for the eponymous role in Margaret Thatcher: the Long Walk to Finchley) as Rose, Oscar winner Helen Mirren (The Queen, Gosford Park) as Ida, John Hurt (1984, The Naked Civil Servant and 44 Inch Chest) as Phil Corkery, Sean Harris (Harry Brown, Creep, 24 Hour Party People) as Fred Hale, and Phil Davis (Quadrophenia, Vera Drake) as Spicer.
Produced by award-winning producer Paul Webster (Atonement, Pride and Prejudice, Eastern Promises) for Kudos Pictures, BRIGHTON ROCK marks the first major production investment in UK production by StudioCanal Features through its subsidiary company Optimum Releasing.

PRAISE FOR BRIGHTON ROCK

"Its evocation of South Coast gang warfare is stylishly intense and it never shirks from the randomness of the violence."
Mark Adams, Screen Daily
"It is clear from the outset that he (Rowan Joffe) is quite ready to blaze his own trail. Andrea Riseborough's breathtaking performance as Rose soon overwhelms. To say her achievement deserves an Oscar would be somehow to demean it. Cinema has been here before often enough, but rarely more impressively. Since they are so different, there is no need to compare this film with its predecessor. Suffice to say that if that was a masterpiece, then so is this."
The Guardian
FESTIVALS
Toronto International Film Festival
The 54th BFI London Film Festival – Surprise Film