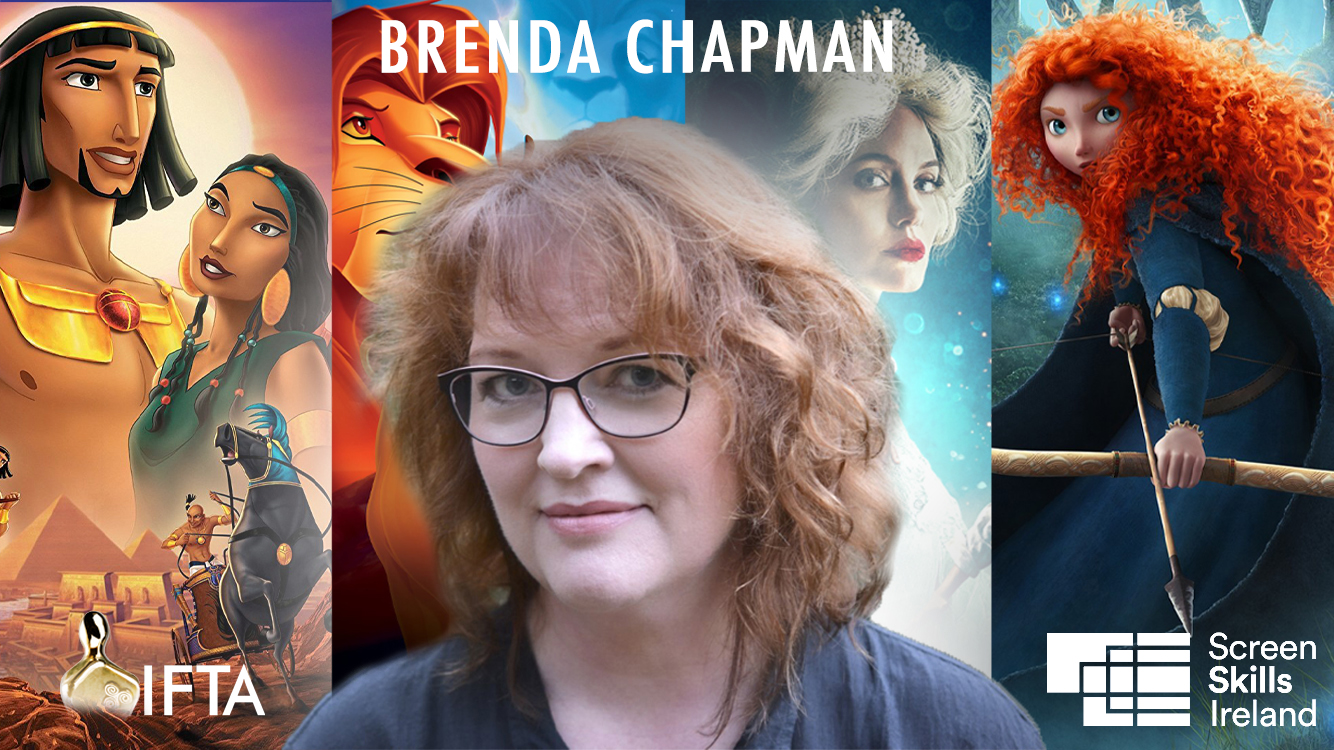 IFTA SKILLS IN FOCUS: ANIMATION
with BRENDA CHAPMAN
Thursday, August 26th, 5pm
The Irish Film & Television Academy, in association with Screen Skills Ireland, present a special "In Conversation with…" event with celebrated Animator Brenda Chapman.
IFTA's latest Skills in focus event will see the first woman to ever direct a feature animation and the first to win an Oscar for Best Animated Feature Brenda Chapman in conversation.
Join them as Brenda reflects on her long career at Disney, Dreamworks, and Pixar and shares her early influences and the threads that connect to her newest projects and endeavours as well as the skills you need to succeed in animation.
Topics discussed will include:
Visual Design and Idea Development:

Visual Storytelling

Director Skills for Animation

The Journey to becoming an animation director

3 key points to achieving success
Brenda Chapman started her career as a story artist at Walt Disney Feature Animation in 1987, where she worked on several animated films including The Little Mermaid, and the Oscar nominated Beauty and the Beast. Chapman was the story supervisor on the original The Lion King, for which she won ASIFA's Annie Award.
She then helped launch DreamWorks Animation Studios and co-directed the 1998 release of the Oscar winning Prince of Egypt. Chapman was the first woman to direct an animated feature for a major Hollywood studio.
Joining Pixar Animation Studios in September 2003, Chapman created, wrote and directed Brave – inspired by her relationship with her daughter – for which she was the first woman to win an Oscar, BAFTA and Golden Globe for Best Animated Feature Film of 2012.
Her first live-action film, Come Away, starring David Oyelowo and Angelina Jolie, premiered at the 2020 Sundance Film Festival.
Chapman and her husband, filmmaker Kevin Lima (Enchanted, Disney's Tarzan, A Goofy Movie), created 'Twas Entertainment, which focuses on family entertainment.
Currently, Chapman is writing a feature script for Gutsy Animations UK, executive producing on projects for 'Twas, as well as working on a novel, a memoir and a children's book.
The event is moderated by Moe Honan, CEO of Moetion Films. Moe has over twenty years' experience co-producing animated feature films with partners across Europe and Canada. In 2015, the company developed and co-produced the 3D animated feature Two By Two – Ooops! The Ark Has Gone; released in over 464 theatres in the UK and Ireland and over 120 territories worldwide. Moetion Films and its co-production partners were awarded the 2016 European Producer of the Year at Cartoon Movie in Lyon. In 2020 Moe produced and voice directed the sequel Two by Two: Overboard.
This will be an online Zoom Event - You will be sent the Zoom Access Link by email