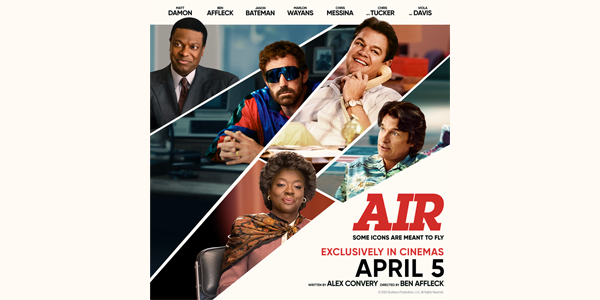 AIR - Members' Screening

IFTA MEMBERS' SCREENING
MONDAY 3RD APRIL
IFTA, AMAZON STUDIOS and WARNER BROS. PICTURES host a preview screening of AIR, directed by Ben Affleck and written by Alex Convery, on Monday 3rd April.

AIR reveals the unprecedented partnership between rookie Michael Jordan and Nike to create the Air Jordan brand. It follows the gamble of an unconventional team, the uncompromising vision of a mother who knows her son's worth, and one of the greatest basketball phenoms of all time.

The ensemble cast of AIR includes Matt Damon, Ben Affleck, Jason Bateman, Chris Messina, Matthew Maher, Marlon Wayans, Jay Mohr, Julius Tennon, with Chris Tucker and Viola Davis.
"Beautiful… a tremendous underdog story… truly a film about legends made by legends. Each actor's performance in "Air"
is phenomenal in their own right."
Indiewire – Marisa Mirabal

"This is the best movie I've seen in years. Couldn't recommend it enough!"
TODAY FM – Dave Moore
AIR will be released in cinemas on 5 April 2023