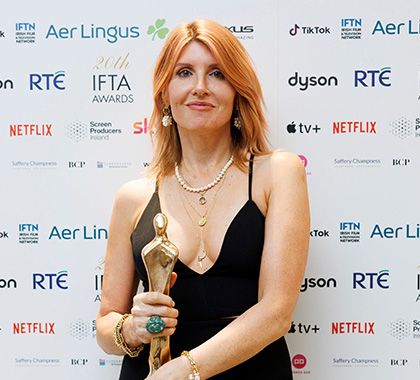 London based actress, writer, director and producer, Sharon Horgan is best known for her UK television work Pulling and Catastrophe.
Pulling, was co-written by Horgan and Dennis Kelly, and features Horgan as Donna, an irresponsible marketing manager who calls off her wedding at the last minute. Horgan won a British Comedy Award in 2008 and 2009 and was nominated in for BAFTA Television Award in 2009 for the show.
Catastrophe is a sitcom which is co-written and co-stars Rob Delaney. In Catastrophe Sharon Horgan plays Sharon and Irishwoman living in London who falls pregnant by Rob, an American she mets on business in London. The second season is currently airing on UK/Irish television.
Sharon Horgan won two Gala IFTA Television Awards in 2015 for Best Female Performance and for Best Writing Comedy/Soap.
London based, she is currently Exec Producing a US show Divorce starring Sarah Jessica Parker, which she also scripted.
"Thank you IFTA – I'm thrilled! These are my first nominations and I am delighted they are for Catastrophe. I have watched the IFTA's from afar for many years."

Shoran Horgan
(on receiving her IFTA Win 2015)