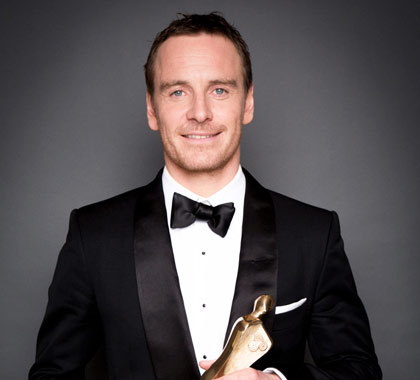 Michael Fassbender was born on 2nd April 1977 and raised in Co.Kerry, Ireland and after attending drama school in London, his first major role was in Steven Spielberg's 2001 award-winning mini-series Band of Brothers. Later roles came on British dramas such as Hex, Trial & Retribution and Murphy's Law in addition to a now well-known Guinness television commercial. Michael's breakthrough role came in 2006 as Spartan warrior Stelios in fantasy action film 300, which grossed almost $500 million worldwide.
His next role, playing the real-life 1980's Northern Irish prisoner Bobby Sands in the film Hunger won him several international accolades and the IFTA Rising Star. The awards ceremony was the culmination of a year in which the actor had exploded into the mainstream with the films success, both in Ireland and internationally where he was honoured by organisations such as BIFA and BAFTA for his performance. Fassbender has since spent recent years working with some of Hollywood's most accomplished directors such as Quentin Tarantino (Inglorious Bastards), Ridley Scott (Prometheus) Andrea Arnold (Wuthering Heights), Joel Schumacher (Blood Creek), Neil Marshall (Centurion), Matthew Vaughan (X Men: First Class), Stephen Soderbergh (Haywire) and David Cronenberg (A Dangerous Method).
He won the IFTA for Best Actor in 2011 for his role in Steve McQueen's Shame. Described as "a brilliant, ferocious performance" by The Hollywood Reporter, it was also nominated for BAFTA, Golden Globe and European Film Awards. In 2013, Michael collaborated with McQueen again on the acclaimed film 12 Years A Slave. The role won him Golden Globe, Screen Actors Guild and Independent Spirit Award nominations, as well as the IFTA Award for Best Supporting Actor. Recent projects include Lenny Abrahamson's comedy Frank, alongside Domhnall Gleeson and Maggie Gyllenhaal.
The role won him Golden Globe, Screen Actors Guild and Independent Spirit Award nominations, as well as the IFTA Award for Best Supporting Actor – as well as garnering the actor his first Oscar nomination
2015 proved to be another breakthrough year for Fassbender with acclaimed starring roles in three Hollywood films that cemented the actor's versatility – he portrayed a taciturn bounty hunter in the Wild West in John Maclean's Slow West, the torn power-hungry titular character in Justin Kurzel's adaptation of Macbeth and he also gave a complex and layered portrayal of late Apple tycoon Steve Jobs in Danny Boyle's film Steve Jobs. For the latter project, Fassbender received Golden Globe, BAFTA and SAG nominations as well as his second Oscar nomination – this time for Best Actor