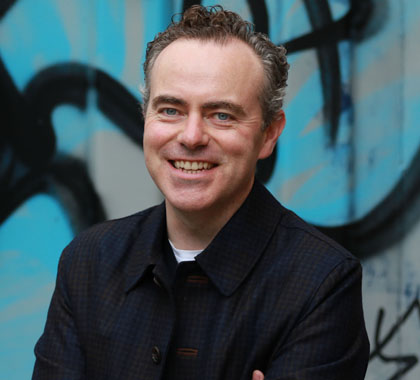 John Crowley is an award winning director, currently nominated for Outstanding British Film for 'Brooklyn'. Based in London, John started his film career by contributing to the Beckett on Film project with Come and Go (produced by Alan Moloney and Michael Colgan), and starring Anna Massey and Sian Philips in 2000.
He then made the Dublin caper film 'Intermission' (with Alan Moloney producing for Neil Jordan's and Stephen Woolley's Company of Wolves in 2003), for which he won an IFTA for Best Director at the 2003 ceremony. The film stars Colin Farrell, Colm Meaney and David Wilmot, and was written by Mark O'Rowe. In 2007 he directed 'Boy A' for Film Four productions, and followed this in 2008 with 'Is Anybody There?', starring Michael Caine. More recent productions include 'Closed Circuit' starring Eric Bana, two episodes of season two of the award-winning US series 'True Detective' in 2015, and 'Brooklyn' currently nominated for British and American Academy Awards. John Crowley recently participated in the Irish Academy's Q&A after our First Look Exclusive screening of 'Brooklyn'. The Q&A was hosted by Tara Brady of the Irish Times. In a recent article on Indiewire, "Crowley's sensitive direction does so much with the imperceptible, the subconscious, the minute, unspoken emotions we can all recognize. It's a subtle but gorgeous piece of filmmaking all around with an outstanding troupe of performers in it, so it's perhaps no wonder it has wedged its way deeply into the the awards season conversation."
John also participated in the Irish Academy's annual John Ford Ireland Symposium in 2013 on the Directors Panel, along with Jim Sheridan, Bertrand Tavernier and Julian Jarrold.