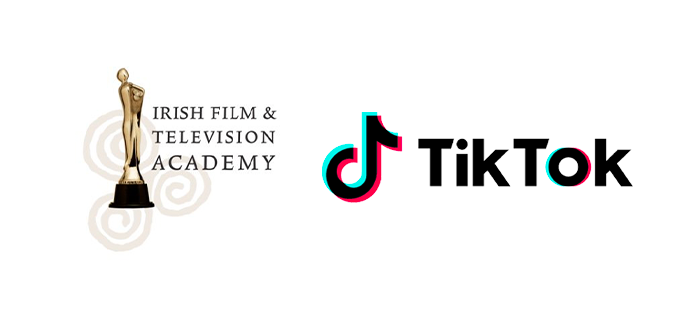 IFTA announce content partnership with TikTok ahead of 20th Anniversary Awards Ceremony
The Irish Film and Television Academy (IFTA), is proud to announce that it is partnering with TikTok as part of its upcoming 20th Anniversary IFTA Awards Ceremony taking place on Sunday, May 7th.
As part of the partnership, IFTA will host exclusive content from the past twenty years via #IFTA on TikTok. There will also be a special TikTok LIVE direct from the red carpet on May 7th hosted by popular TikTok creator and disability rights activist, India Sasha Atkinson. As part of the TikTok Live, Belfast native, Sasha, who has more than 500k+ followers on TikTok and is known for her straight-talking and down-to-earth sense of humour, will be speaking with some of the biggest names in Irish film and TV and sharing some fun behind the scenes footage.
"We are delighted to partner with TikTok to bring the excitement of the IFTA red carpet to an even wider audience," said an IFTA spokesperson. "The IFTA Awards are a celebration of Irish talent both at home and internationally, and this partnership with TikTok allows us to showcase that talent in a unique and engaging way."

A spokesperson from TikTok added: "The creative and engaging worlds of film and TV have captured the hearts of the TikTok community with actors, film makers and fans alike coming together to share their passion for film and TV in a uniquely TikTok way. It is our privilege to bring the TikTok community to the iconic IFTA awards ceremony to celebrate and recognise the outstanding work of the many talented individuals in the Irish film and television industry."
About the Awards:
The 20th Anniversary IFTA Awards ceremony will take place on Sunday, May 7th, and highlights will be broadcast on RTÉ Two the following evening Monday, May 8th. The show will feature a range of categories celebrating the best of Irish film and television, with nominees for Best Film including The Banshees of Inisherin, Lakelands, Aisha, God's Creatures, The Wonder and Róise & Frank. Comedian and actress Deirdre O'Kane will host proceedings.
To tune into the TikTok Live from IFTA red carpet, be sure to follow and tune into India Sasha Atkinson from 5.15PM on Sunday, 7th May
You can find IFTA's TikTok channel at http://tiktok.com/@ifta
For media inquiries, please contact:
IFTA - press@ifta.ie