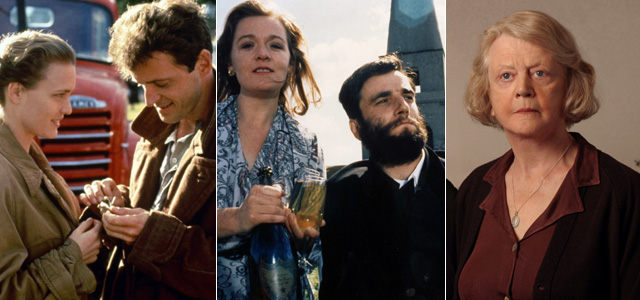 win tickets to ifta in conversation with...
SHANE CONNAUGHTON
event DETAILS
When:
1 August 2012, from 5pm

Where:
The New Theatre, Dublin

All seating is unreserved

What to guarantee your tickets to this exclusive IFTA event? click here for more information about becoming a Member of IFTA

To celebrate IFTA's In Conversation With... Shane Connaughton, taking place in Dublin on Wednesday 1st August, IFTA has two tickets to give away to one lucky winner.

Shane, whose credits include the Oscar winning feature films My Left Foot and The Dollar Bottom, is an acomplished screenwriter, autor and actor.
Shane Connaughton came to prominence in 1980 when, along with James Kennaway, he co-wrote the screen play for the Academy Award-winning The Dollar Bottom directed by Roger Christian and collaborated with Mike Leigh on Four Days in July, a film about the Troubles in Northern Ireland and screened in 1985. He also co-wrote the screenplay with Jim Sheridan for My left Foot which won five Academy Awards.

Connaughton wrote the novel A Border Station published in 1989 which is a series of stories about a young boy's relationship with his father and mother set along the Ulster border where his father is the local garda sergeant. This book mirrors Connaughton's own upbringing in Redhills. Shane is also the author of The Run of the Country (1991) also set in Redhills, and Big Parts published (2009).

Shane also wrote the script for The Playboys (1992) directed by Gilles MacKinnon which starred Albert Finney and Aidan Quinn and was shot on location in Redhills and also adapted The Run of the Country (1995) directed by Peter Yates for the screen. Albert Finney also appeared in this film with Matt Kessler. Shane wrote the screenplay for Tara Road (2005), and wrote the script for the US television movie Blackwater Lightship (2004) based on Colm Toibin's book.

Connaughton's acting credits include many stage and screen productions, including Coronation Street, Ghostwood, Four Days in July and Neil Jordan's The Miracle.
COMPETITION ENTRY
To be in with a chance of winning a pair of tickets to this special IFTA event - In Conversation With... Shane Connaughton - all you have to do is:
1) Like IFTA's page on Facebook or follow us on Twitter (if you're already connected with IFTA skip to step 2)

2) Answer the following question:

Shane Connaughton wrote and will star in what theatre production running from the Jul 30th - Aug 18th at The New Theatre in Dublin?
a) The Pitch
b) The Throw
c) The Catch
Send your answer and contact details (name, address and telephone number) to competitions@ifta.ie
connect with ifta
Winners will be contacted directly. Closing date for entries is 10am, Monday 30th July.
Terms & conditions apply.