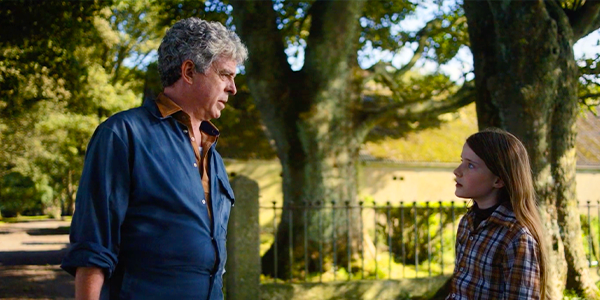 An Cailín Ciúin makes history with Oscar nomination
Irish Film & Television Academy are delighted to celebrate Irish success including An Cailín Ciúin's nomination at the 95th Academy Awards. It is one of five films nominated in the "International Feature Film" category of the Oscars. The film has made history by becoming the first Irish feature film to receive a nomination in this category, the latest step in a momentous journey from initial homegrown development to international success.
Also recognised by the Academy Awards are Martin McDonagh's The Banshees of Inisherin and its cast Colin Farrell, Brendan Gleeson, Barry Keoghan and Kerry Condon in acting categories; Paul Mescal in Aftersun for Best Leading Actor; and An Irish Goodbye nominated for Live Action Short Film.
Speaking on the film's Oscar nomination, Writer/Director, Colm Bairéad and Producer, Cleona Ní Chrualaoi from Inscéal, the production company behind the film, said "We are honoured beyond words that An Cailín Ciúin has been nominated for the 95th Academy Awards. This is a truly historic and meaningful moment for Irish film, the Irish people and the Irish language. Never before has an Irish film been nominated in this category. Never before has Irishlanguage art been given such a platform. This film has been an extraordinary labour of love and it has been a joy to see audiences the world over take it into their hearts. Our sincere thanks to the members of the Academy for embracing An Cailín Ciúin and giving her a voice. Our huge thanks also to the funders of this film; TG4, Screen Ireland and the Broadcasting Authority of Ireland, to the Irish Film and Television Academy, Bankside Films and to all of our wonderful distributors around the world".
Áine Moriarty, Chief Executive of the Irish Film & Television Academy (IFTA) said "Congratulations to Colm, Cleona and all the cast and crew of An Cailín Ciúin, on your Academy Award Nomination. Your brilliant and beautiful film, in our native Irish language, has been recognised amongst the best in the world. On behalf of all of our Irish Academy Members, who have recognised and rewarded your remarkable work here in Ireland, we are all so very proud of your achievements and The Quiet Girl's journey thus far around the globe. Comhghairdeas!"
Last week, the film was nominated for a BAFTA in the "Film Not in the English Language" and "Adapted Screenplay" categories. An Cailín Ciúin had a phenomenal cinema release in Ireland (Break Out Pictures) and the UK (Curzon) last year, running for over six months and is currently back in Irish cinemas again. It has grossed over €1.1m at the Ireland-UK box office so far, making it the highest grossing Irish-language film of all time and one of the most critically and commercially successful Irish films of recent years.
Désirée Finnegan, Chief Executive of Fís Eireann / Screen Ireland said "Our huge congratulations to Colm Bairéad and Cleona Ní Chrualaoi on An Cailín Ciúin (The Quiet Girl)'s Academy Award nomination today. This is an historic moment for Irishlanguage film, which we and our Cine4 partners TG4 and the BAI are immensely proud of. The beautiful film that Colm Bairéad has made in An Cailín Ciúin is an incredible achievement, as is the work from the film's cast and crew, from Kate McCullough's stunning cinematography to Stephen Rennicks' emotive score, and of course, Catherine Clinch's heart-breaking performance".
TG4 Director General Alan Esslemont said "An Cailín Ciúin has touched the hearts of cinema-goers throughout the world, breaking record after record. Colm Bairéad and Cleona Ní Chrualaoi have created a classic masterpiece and have become a huge source of pride for those of us who speak this minority language and for all those people worldwide who understand the importance of a thriving Irish language for Ireland's culture and creativity. I congratulate everyone involved in this success - cast and crew, my own colleagues at TG4 and our partners at Screen Ireland and the BAI. Our 'Cine4' scheme was about creating a new world of movies for the Irish language community, but it has in actual fact been central to a new wave of cinema for all of Ireland. The road towards the Oscars has been opened by Colm and Cleona and today we celebrate the global resonance of that huge achievement".
Nell Roddy and Robert McCann Finn of Break Out Pictures commented "We first saw An Cailín Ciúin during the pandemic in 2021 and were blown away by its searing beauty and heartfelt honesty and couldn't wait for audiences to view Colm's quiet masterpiece. It's been an unstoppable film since then and we couldn't be prouder that it has now reached such dizzying heights, what a staggering achievement for Irish cinema".
Commenting on the Oscar nomination, the film's US distributor, Super said "We're thrilled that the Academy recognized this extraordinary film. It's our great privilege to share The Quiet Girl with US audiences and we couldn't ask for a more passionate and deserving team to celebrate with today. Comhghairdeas!".
An Cailín Ciúin was produced by Cleona Ní Chrualaoi of Inscéal, the production company she established with Bairéad in 2012. The film was made as part of the Cine4 funding scheme for Irish-language films in partnership with Screen Ireland, TG4, and the Broadcasting Authority of Ireland (BAI). The film was also in receipt of the Irish Government's Section 481 tax incentive. An Cailín Ciúin will have its nationwide release in the US in February and will be released in many other territories from February onwards. Bankside Films are representing An Cailín Ciúin for world sales.