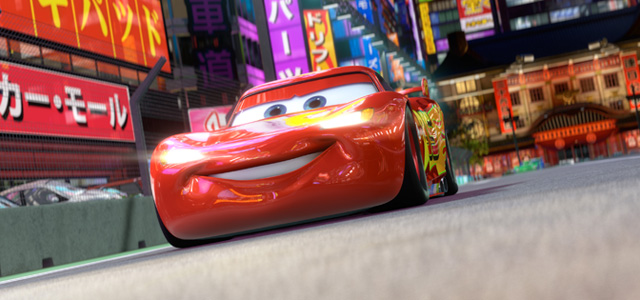 wIN TICKETS TO IFTA IN CONVERSATION WITH... JOHN LASSETER
DISNEY/PIXAR LEGEND TALKS ABOUT CAREER IN ANIMATION
event DETAILS
When:
6pm sharp

Where:
Cineworld, Parnell Street, Dublin 1

All seating is unreserved

Running Time:
112 mins

Cert:
G

With thanks to Walt Disney Studios Motion Pictures, Ireland, and John Lasseter

The Irish Film & Television Academy (IFTA), with thanks to Walt Disney Studios Motion Pictures, Ireland, is delighted to offer you the chance to attend an exclusive IFTA event featuring Disney/Pixar's John Lasseter!
ABOUT IN CONVERSATION WITH... JOHN LASSETER
The two-time Academy Award®-winning writer/director/producer John Lasseter (Toy Story, A Bugs Life, Cars) will be the subject of IFTA's next In Conversation With… event on Monday 25th of July 2011.

Also featured at this Animation in Focus will be a special screening of John Lasseter's latest animated film Cars 2, which he directed and wrote - a follow up to his 2006 Golden Globe winning feature Cars.
Denise Ream, producer of Cars 2 and associate producer of Disney/Pixar's Oscar winning feature animation Up, will also take part in the Q&A.

John is one of the world's leading talents in animated storytelling and, since his debut feature film Toy Story in 1995, John's influence and inspiration on the world of animation has been immeasurable.

Irish guests will share a rare opportunity to listen to and engage in a discussion with John about his incredible career experiences working in animation - and you could be there too!
To be in with a chance to win to tickets simply do two things:
1) Like IFTA's Facebook page and or Follow IFTA on Twitter: If you already follow us skip to step two!

Facebook: www.facebook.com/iftaonline

Twitter: www.twitter.com/ifta

2) Answer the following question:
Who voices the animated character Lightning McQueen in John Lasseter's Cars 2?

a) Tom Hanks
b) Owen Wilson
c) John Lasseter
Send your answers to competitions@ifta.ie along with your name, address, contact number.
Disney/Pixar Cars 2 is out in Irish cinemas on July 22, 2011, and will be presented in Disney Digital 3D™ in select theatres.

Closing date Friday 5pm