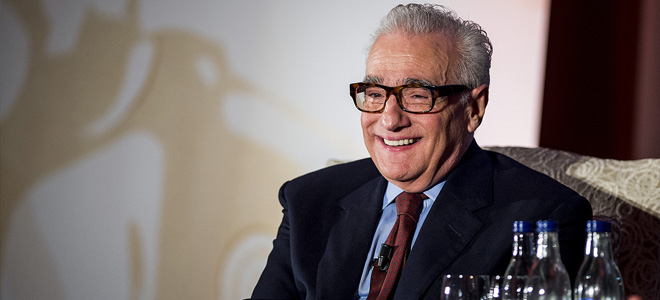 Martin Scorsese tells Irish filmmakers to 'Go reinvent Cinema' as President of Ireland, Michael D Higgins presents him with the John Ford Award
A visibly moved Scorsese, said he felt humbled to accept the Award saying "To be honoured by the Irish Film & Television Academy and to receive an award created in celebration of John Ford's artistry and prestige, has great personal significance for me."
The Award was presented to Scorsese by President Michael D Higgins immediately after the renowned Director delivered a two-hour Masterclass to hundreds of Irish filmmakers in the ballroom, moderated by Northern Irish Director Brian Kirk.
He shared his insights into key techniques within the craft that many filmmakers in the room have cited as one of the most inspiring few hours they have ever spent discussing and studying the craft.
A highpoint of the event was when the Academy's CEO, Áine Moriarty, introduced Ireland's beloved President Michael D Higgins into the room to acknowledge Scorsese's contribution to Cinema, and the whole room erupted in applause with a standing ovation for the two legends standing side by side on the stage.
Áine Moriarty said "Martin Scorsese has earned his place in history as a revered genius of modern cinema with his contributions over almost fifty years and that he has elevated and reaffirmed the craft as an art form". She said he is also to be commended for spear-heading the preservation of film for future generations to experience.
President Higgins said he was honoured to be asked to present the award to Scorsese saying: "How timely this award is, bestowed on a provocateur of the possibilities of film, by a young, energetic Irish film community that is receiving recognition for its courage and excellence. How timely, too, for us to be reminded that what art makes possible is the emancipation of our sensibilities from any acceptance of the inevitability of a weary indifference to suffering.
"His half century of film craft gives us reason to see how the image presented in the form that is film encourages us to believe in the future, and that the endless possibilities of our humanity, if not yet realised, are ever more important, and in dark times even more than the flickering times of light.
"It is a pleasure to present the John Ford Award of the Irish Film and Television Academy to maestro Martin Scorsese".
Martin Scorsese: Upon his acceptance, Scorsese was visibly moved from the genuine and undeniable respect and adulation pouring forth from the packed ballroom of Irish filmmakers, who recognized that this was a great Master of the craft in their midst.
He humbly accepted the Award, and said "I am deeply honoured. What beautiful words Mr. President. This is so surreal because, it's like a dream you know, because I walked in off the street and saw these films and somehow there's no doubt as I said the first name that I associated with cinema and great, great work was Ford. So for me, to receive this, to be honoured in this way, and to receive this welcome. How long has it been? 1998 I was here last; a long time ago and I always wanted to get back to Dublin. I never thought I was going to be receiving something like this; it's from another time and place, another time and place."
He finished by telling the auditorium he would like to see more Irish films and said
"Go reinvent cinema, go ahead. I've done mine, now it's up to you."
The John Ford Award:
The JOHN FORD Award honours the legacy of Ford and is presented to a world-renowned filmmaker whos body of work has been inspired by, and learned from, the work of Ford. The Award recipient is a filmmaker who has an individuality, a uniqueness of vision and a distinctive artistic talent. A contemporary director whose career continues the legacy of great filmmaking and storytelling. The recipient's work is admired by critics and cinema lovers alike, akin to that of the great movie master John Ford.