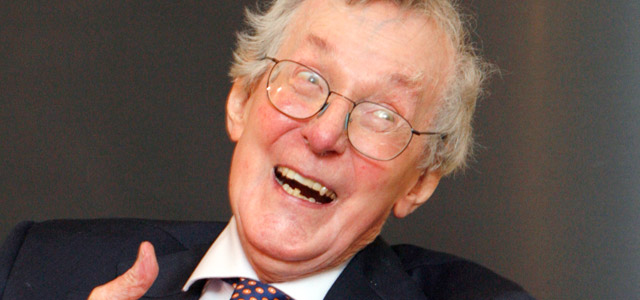 IFTA LIFETIME MEMBER CATHAL O'SHANNON PASSES AWAY

CATHAL O'SHANNON
1928 - 2011
Broadcasting legend and IFTA Lifetime Member Cathal O'Shannon has passed away on 22 October 2011, he was 83. Cathal will be greatly missed by his friends and colleauges within the industry. May he rest in peace.

In 2010, the Irish Film & Television Academy paid tribute to Cathal with a Life in Television Tribute Award honouring his lifetime's dedication to the industry - and the skill, wit and creativity he brought to each of his projects throughout a long and distinguished career.
View images from Cathal O'Shannon: A Life in Television on the IFTA Facebook here and in the IFTA Gallery (browse to Events 2010).
View the video interview between Cathal O'Shannon and Gay Byrne at Cathal O'Shannon: A Life in Television below.
Tributes paid to the career of Cathal O'Shannon in 2010 ahead of his Life in Television IFTA Tribute.
"Looking back across Cathal's great portfolio of broadcast work it is hard to know which of his talents has been most conspicuous: his interviewing skills, where he made the interviewee his friend and confidant but always in the service of the audience; his apparently effortless presentation to camera, conversational yet punching his key points home; his nose for a popular story and skill in telling it through a taut, engaging narrative. And of course the answer is that it was all of these. Each of Cathal's skills was of the highest grade in the profession. The combination of all of them made him a broadcaster of the first rank, one of Ireland's most outstanding talents."
Cathal Goan, Director-General RTÉ
****************************
"Cathal O'Shannon is a distinctive voice in Irish broadcasting for over forty years. His combination of curiosity, integrity, good humour and good writing has enlivened his wide-ranging television output.
He is great company and an endearing rascal who can tell some of the most scandalous and outrageous stories you are ever likely to hear!"
John McColgan
"Cathal O'Shannon, what can I say - sublimely truthful, courageous journalist and broadcaster. Outstanding man of conscience who enlightened us all and humbly reminded us that with some courage and care we could be a better nation. His country owes him a great debut and it is an honour to join his friends and colleagues today in memory of my father and Cathal's friend & fellow republican Terry Flanagan, to pay tribute to Cathal O'Shannon - Great Irishman. Love, Fionnula Flanagan."
Fionnula Flanagan
"Talented, erudite, charming with an acerbic wicked wit, Cathal, the quintessential reporter/presenter continues to drive the standards in his chosen profession to an all-time high. He really is THE GREATEST!"
Sheamus Smith
"Cathal O Shannon's life and work covers the complete complexity of Irish identity. The son of a famous Irish socialist, he volunteered for the Royal Air Force to fight fascism, then came home to make classic films about legendary Irish patriots like Michael Collins. And he did it all with grace and good humour. Go maire se chead."
Senator Eoghan Harris
"Looking back over four career decades in this business, I relish the fact that so many of my most satisfying professional experiences - as well as some of my most enjoyable personal ones - have been associated with Cathal Óg: learning the ropes from him in my first year as a neophyte producer/director on Frank Hall's Newsbeat; breaking our sides making Margaret Kildysart, the Forgotten Lady Novelist of Loughrea (the unexpurgated edition); and, of course, his award-winning, Even the Olives Are Bleeding. Congratulations, Cathal, you've been an inspiration, a pal and your contribution to Irish television broadcasting has been truly unique."
John Kelleher
"At the core of a television presenter's challenge is the task of looking into the camera and treating it as your friend, almost forgetting it is there but making every viewer on the other side of the lens feel that you are talking to them alone. In the five decades to date of Irish television, no presenter has equalled Cathal O'Shannon for consummate skill in this regard. On camera he was an unrivalled raconteur, a mischievous companion, a finder and teller of tales, a historian of gravity, an interviewer nonpareil. It is impossible to hear Cathal's voice coming from screen without turning to watch. And once Cathal has your attention, he holds you in the palm of his hand. Working with him was an experience. Watching him back in the edit suite was always a joy."
Kevin Dawson, Head of Corporate Communications, RTÉ and Exec Producer Rebellion (1998), presented by Cathal O'Shannon

"There is mischief and insight into Cathal's television work. He has in abundance that essential attribute of a journalist: curiosity."
Vincent Browne

"What I learnt from Cathal was that if you work hard you are entitled to play hard and that you can deliver highly professional work and still have a great deal of fun."
Paul Cusack

"Cathal O'Shannon was the first reporter I worked with when I joined RTÉ as a researcher 35 years ago. We spent time travelling the highways and byways of Ireland looking for stories and people to interview for programmes such as Tangents and later Tuesday Report.
"In those days RTÉ was the only channel available throughout most of Ireland and it is no exaggeration to say that O'Shannon was instantly recognised where ever he went. His success lay in the fact that he never allowed this so called celebrity get in the way of meeting and chatting to the plain people of Ireland. This natural affability combined with his ability to tell a good storey guaranteed his success as a television presenter.

"There was also and sense of devilment about Cathal which endeared him to the viewers. To be pompous and self-important is not part of his nature and we love him for it."
Larry Masterson

"We'd love to be with you to reminisce - driftnet fishing off Achill, rat-racing in Antrim, Kevin Barry's comrades, big birthdays in Ahakista. Happy, happy memories with you and Patsy. Our best love to you."
Marguerite and John Condon

"Cathal, flinty Dublin salt! His voice was scraped up off the gravel of Dublin streets.
His language is unprintable most of the time. His leftwing ancestry, his capacity for argument, drink, invective and crankiness are legendary. They are incomparable credentials.
He is a gifted writer and a natural raconteur in front of a camera.
He has a knacky ability to craft lively, provocative sentences in pursuit of his passion for overlooked crimes and undetected gallantries in battle.
His friendship is a boon. His love for his beautiful Patsy was always evident and touching.
He is a nimble fellow, having outwitted many maladies.
I think of him as an old friend, brave and without pretense.
Forthright like his indomitable sisters, Grainne and Fionnuala.
Ready to enjoy this honour among the love of his many pals -- including me, from afar."
Lelia Doolan

"Is ceart agus is cuí an gradam seo a bhronnadh ar Chathal O'Shannon, fear mór staire, fear mór teilifíse agus fear aoibhinn lán de spiorad. It's entirely appropriate that Cathal should be honoured in this way by the Academy. He's a man of great knowledge, great charisma and great personality.
"I met Cathal for the first time while I was presenting 'Open House'. He came in once a week and talked about various historical events. To say that he talked about events is a misnomer actually. Cathal quite simply brought them to life.

"Listening to Cathal talk about a battle during the First World War, perhaps, or an incident during the Easter Rising was to be brought back in time to that very moment; to live it, to hear the gunfire, to smell the fires burning, to see the people fleeing and to hear them screaming. I have never met anybody who could tell a story as vividly as Cathal. It was a privilege to have him as a contributor to 'Open House'. We looked forward to his weekly visits to our set. The door would open and Cathal would enter the room, quietly, shyly at first but with an unmistakable twinkle in his eye and a charm that would allow him get away with all sorts of mischief."
Mary Kennedy

About Cathal O'Shannon

Cathal began his career in journalism whilst stationed in Burma as a serving member of the RAF at the young age of 16.Upon his return home, O'Shannon joined the Irish Times as a cadet reporter, where he stayed for many years. It was whilst working in the Fleet St London office of The Irish Times that O'Shannon met his much loved wife Patsy Dyke. After their honeymoon, they returned to Dublin where Cathal continued to gain the experience and understanding which would eventually lead him to be selected as a presenter for the fledgling RTE's magazine programme Broadsheet. His work on Broadsheet gave him the contacts needed to join the BBC Production Tonight in 1964. Cathal travelled the globe as part of his work, returning to Dublin when the show was cancelled. He returned to RTE to work on Newsbeat, a magazine style programme which took Cathal and the production team across Ireland in search of quirky and interesting stories on fairy trees, cock fighting and the search for the Lough Ness Monster. Few will forget the story of Margaret Kildysart of Muggally Hall, the 'erotic lady novelist' celebrated by the programme in an elaborate April's Fool Day joke which many in the country took to be true at the time.

It was at RTE in 1972 that he conducted one of the biggest interviews in the history of Irish television, when he interviewed Muhammad Ali for 52 minutes in front of a studio audience. Billed as 'Muhammad Ali v Cathal O'Shannon'.
O'Shannon made a number of historical documentaries which proved both entertaining and thought provoking. The Jacobs award winning Even The Olives are Bleeding focused on the Irish involvement on both sides in the Spanish Civil War whilst the landmark documentary about General Emmet Dalton, Emmet Dalton Remembers, focused on a major in the British Army who had won a Military Cross fighting at the Somme, and subsequently returned to Ireland to become one of Michael Collins's right hand men. This documentary also won plaudits at the 1978 Jacobs Awards for O'Shannon's 'sympathetic interviewing style'.

Thou Shalt Not Kill, which revisited thirteen of Ireland's most chilling murders, was one of the most popular RTE documentary series ever made and one of the highlights of O'Shannon's career. Having covered many of the cases examined in the series during his tenure with The Irish Times, Cathal was familiar with the details of several of the murders and so was well equipped to bring long forgotten cases back to the public consciousness once more.

Although best-known for presenting documentaries on Irish history, Cathal spent time working on Bon Voyage in the 1990's - a travel programme which saw him travel far and wide in search of the ideal holiday experience. More recently he has worked on the Hidden History series, namely Who Was Gunner Mason and Ireland's Nazis, a fascinating look at a hidden side of Irish life in the aftermath of the Second World War where an unsuspecting Irish public gave safe haven to some of the Nazi regime's most notorious collaborators and war criminals. The documentary attempted to uncover the truth behind the stories and was nominated for an IFTA in 2008.

Over the years Cathal contributed to a vast array of programmes including The Island: Ireland from the Air, Rebellion, Townlands, Gaybo's Grumpy Men and RTE One's War Stories amongst others.