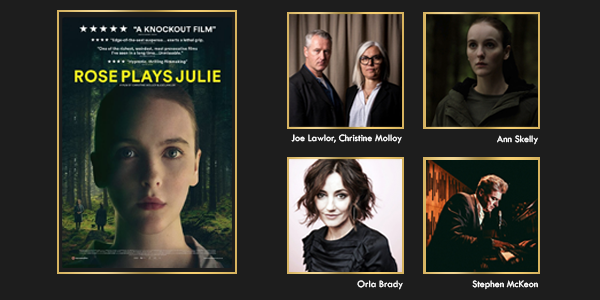 IFTA SCREEN DISCUSSION:
ROSE PLAYS JULIE
4pm Monday, Jan 17th
The Irish Film and Television Academy (IFTA) is delighted to present this special ONLINE discussion for Rose Plays Juliewith Writer/Directors Christine Molloy & Joe Lawlor, Actors Ann Skelly and Orla Brady, and Composer Stephen McKeon
University student Rose (Ann Skelly) has enjoyed a loving relationship with her adoptive parents but desperately wants to know her biological parents and the facts of her true identity. When she finally manages to contact her birth mother, Ellen (Orla Brady), she learns that she has no wish to have any contact. But Rose proves tenacious, and Ellen is forced to reveal a secret she has kept for over 20 years. The shocking revelation forces Rose to enter a dark and painful world with a mother and father who are irrevocably bound together by an act of violence. Written and Directed by Christine Molloy and Joe Lawlor (Helen, Mister John, Further Beyond) Rose Plays Julie is an expertly crafted, eery and suspenseful thriller. The powerful lead performances dovetail with stark cinematography and an imposing score to deliver a chilling meditation on identity.
In Attendance

Writer/Directors Christine Molloy & Joe Lawlor, Actors Ann Skelly and Orla Brady, and Composer Stephen McKeon
This will be an online Zoom Event - You will be sent the Zoom Access Link by email