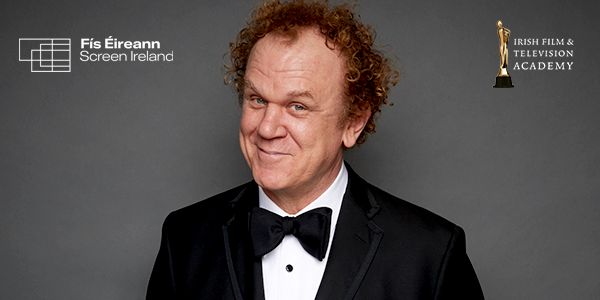 IFTA Masterclass - John C. Reilly

IFI DUBLIN
THURS 8th JUNE

Fresh from his role as Jury President of Cannes Film Festival's Un Certain Regard, Oscar-nominated actor John C. Reilly joined Academy Members for a special Masterclass discussing his wide-ranging career, supported by Screen Ireland.
John spoke about his approach to screen acting, his most beloved performances, his starring role on HBO's hit series Winning Time and his special relationship with the Irish film industry.
"We're thrilled to have John here to do this IFTA Masterclass, and to talk about his diverse career," said Áine Moriarty, CEO of IFTA, as she welcomed John to the stage. "I think it goes without saying he's an extraordinary actor. He's worked with the best actors and the best directors in the world. He's really left his mark."
Reflecting on his experiences of his leading roles as well as his character roles, John said:
"Being a character actor is very hard. It's actually harder, I think, than playing one of the leads in the movie. When you play a lead you've got weeks and weeks to fill the character. If you're lousy in one scene, you make it up the next few days, and by the end of this long arc you've created something. Character actors are like the special forces, you hit the beach running!"
Speaking about the screen duos he's been a part of, including The Sisters Brothers (with Joaquin Phoenix), Stan & Ollie (with Steve Coogan) and Step Brothers (with Will Ferrell) among others, he said "I am in duos a lot. There's something about the way that I am, that duality maybe... It's something that really appeals to me, whether it's The Sisters Brothers or Step Brothers, it's on and on. It'a a way of being not the centre of attention, but the centre of attention. Sharing."
Referencing his background in improvisation, John said "The truth is, I think improvisation is writing. And if you've ever watched a writer write, they're just improvising. I think it's time to respect that part of the craft. Writing on your feet while the cameras are on is a lot more pressure than sitting at a typewriter."
John discussed a variety of his roles in projects as diverse as Magnolia, Kong: Skull Island, Chicago, Gangs of New York, The Sisters Brothers, and his HBO series Winning Time.
A huge thanks to John for his generosity in speaking to our guests, and thanks to everyone who attended the masterclass.