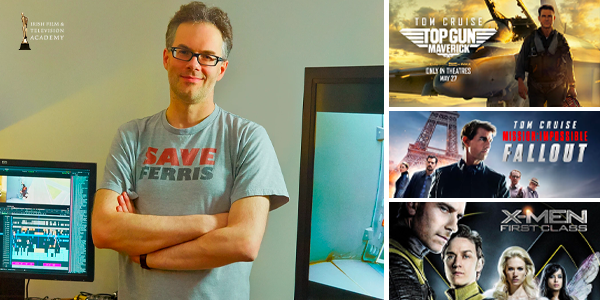 Editing Masterclass - Eddie Hamilton

VIRTUAL EVENT
MONDAY 26th JUNE
IFTA is delighted to welcome Oscar-nominated film editor Eddie Hamilton for a special virtual masterclass on Monday, 26th June, exclusively for Academy Members.

Over 25 years in the industry, Eddie has edited films in a wide variety of genres as well as TV dramas, documentaries and award-winning short films.

Eddie is best known as editor of last year's blockbuster Top Gun: Maverick starring Tom Cruise, and Christopher McQuarrie's Mission: Impossible sequels including the hotly-anticipated Dead Reckoning Part 1 which hits cinemas in July.

For his work on Top Gun: Maverick, Eddie won Best Edited Feature Film at the American Cinema Editors Guild Awards and was nominated for both an Oscar and a BAFTA for Outstanding Editing.

His filmography has also featured several collaborations with director Matthew Vaughn including Kingsman: The Secret Service, X-Men: First Class and Kick-Ass.

In this special event, Eddie will discuss his approach to editing high-profile action blockbusters, the critical and commercial success of Top Gun: Maverick, and share tips and advice for up-and-coming editors.