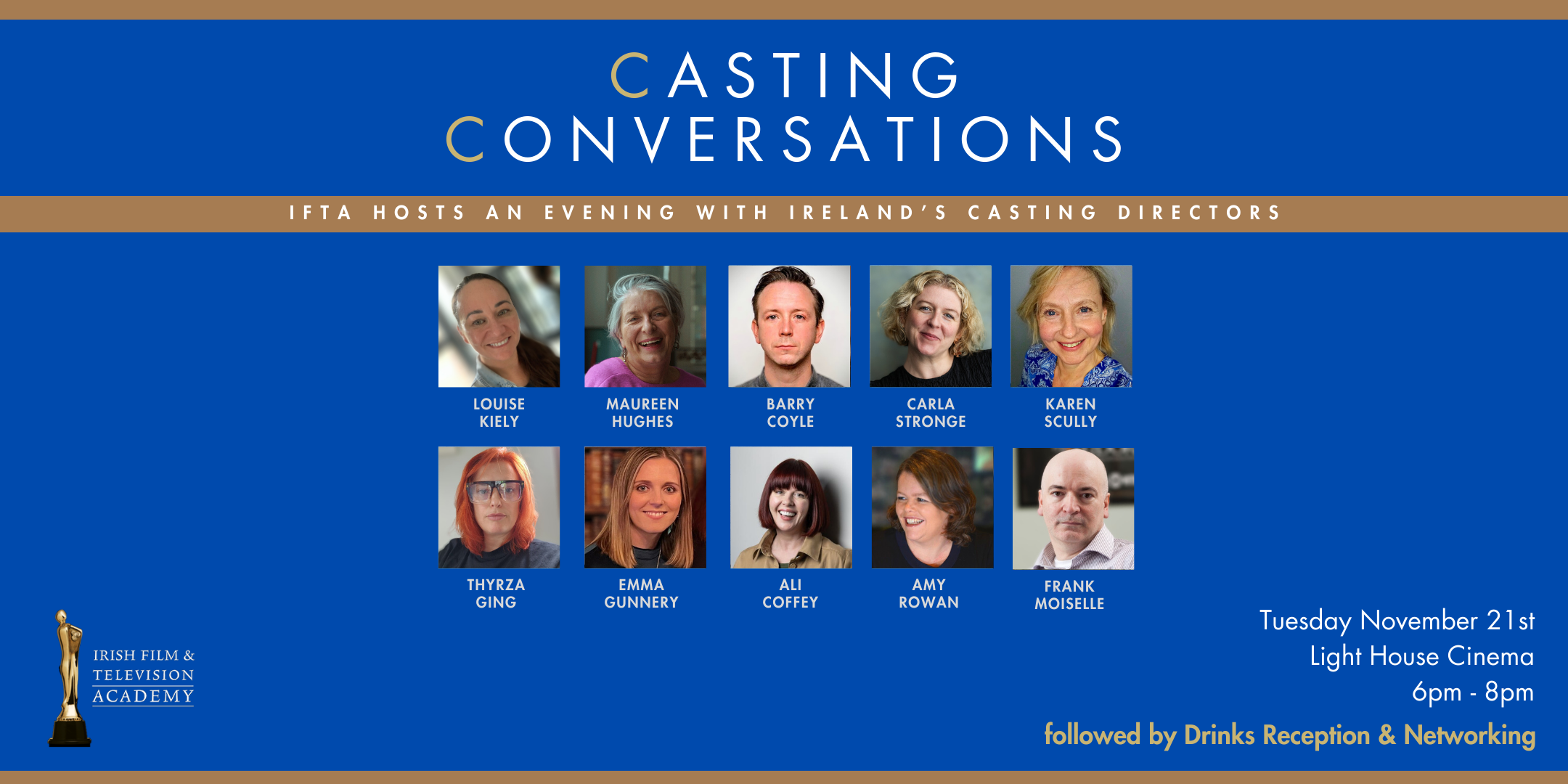 Casting Conversations

Tuesday 21st November 6pm - 8pm Light House Cinema, Dublin
THIS EVENT IS SOLD OUT
IFTA is delighted to host the first Casting Conversations forum on Tuesday November 21st (6pm-8pm), featuring leading casting directors from Ireland north and south, who will share their knowledge and expertise within the casting world. Our panelists will discuss their experiences and share insights into the audition process; techniques for Actors; the selection process; working with Agents, and more.
The Academy is delighted to bring this group of Casting directors together to present a unique opportunity for Actors, Casting Directors, Agents and industry Professionals to hear first-hand from the leading professionals in the field across casting for film and television in Ireland and beyond.
The event will present two panels that will discuss casting across the Changing Face of Ireland; casting approaches that have broken new ground, bringing engaging and dynamic Irish stories to a global audience over IFTA's 20 years and counting.
Discussion around Who We Are and Ireland's increased presence within the international screen industry and community worldwide and how Ireland's new generation of Casting talent is making it's mark and showcasing brilliant acting talent to a global audience.
2 X Panel Discussions
followed by
Drinks Reception & Networking
IFTA is delighted to welcome leading Casting Directors:
Ali Coffey CDG CSA CDA (Michael Inside; Fate: The Winx Saga; Moonhaven; Cocaine Bear)
Amy Rowan (My Name Is Emily; Flora And Son; Garage; Adam & Paul)
Barry Coyle CDG (The Dry; Wreck; Barber; Holy Island)
Carla Stronge CSA (Emmy Winner for Game of Thrones; The Fall; Derry Girls)
Emma Gunnery CDG CSA (Baltimore; My Sailor My Love; Finding Joy; The Vanishing Triangle)
Frank Moiselle CSA, ICDA, CDG (Emmy Nominated for The Tudors; In America, Veronica Guerin, King Arthur)
Karen Scully CDG CSA (Disenchanted; Conversations with Friends; The Green Knight; What Richard Did)
Louise Kiely CDG CSA (Emmy Nominated for Normal People; The Banshees of Inisherin; The Watchers; Bodkin)
Maureen Hughes CDG (Once; Six Shooter; That They May Face The Rising Sun; Love/Hate)
Thyrza Ging CDG CSA (The Tourist; Obituary; The Gone; Kin)
IFTA is delighted to extend this invitation for you to register for this special event. Bridging the gap between talent and the Casting Directors who can shape careers, this event will offer a space for engaging discussions, audience questions, and a unique Networking opportunity with talent within the film and television industry.

Note: This event is now sold out.