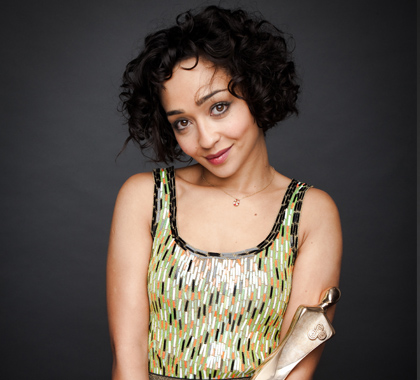 After working primarily in theatre, Ruth Negga made her screen debut in the Irish film Capital Letters, playing the lead role of Taiwo. She went on to play the lead role of Mary in Isolation.
After seeing Negga act, director Neil Jordan changed the script to Breakfast on Pluto so that she could appear in the movie. She has also starred in Colour Me Kubrick with John Malkovich, and the short films The Four Horsemen, 3-Minute 4-Play and Stars.
On television, Negga has appeared in Doctors, Criminal Justice, Love Is the Drug and Love/Hate. She also played the lead role of Doris in the BBC Three series Personal Affairs, alongside Laura Aikman, Annabel Scholey and Maimie McCoy. Negga also appeared as Dame Shirley Bassey in the BBC production Shirley in 2011, and won the IFTA Award for Best Actress (Television) for her performance.
Negga's theatre work includes roles in Duck, Titus Andronicus and Lay Me Down Softly. As of 2007 she began working with the Irish theatrical group Pan Pan Theatre. In 2010, she played Ophelia in the National Theatre's production of Hamlet.
In 2013, it was announced that Negga had been booked for a recurring role as Raina on the American TV series Agents of S.H.I.E.L.D. Also in 2013, she appeared in Steve McQueen's Oscar-winning 12 Years a Slave and in 2014 she appeared in Jimi Hendrix biopic All Is by My Side. In 2016, Negga was cast in the role of Tulip O'Hare in AMC fantasy drama series Preacher and she also portrayed Lady Taria in the fantasy feature Warcraft. She also drew worldwide plaudits for Jeff Nichols racial drama Loving, where she stars opposite Joel Edgerton