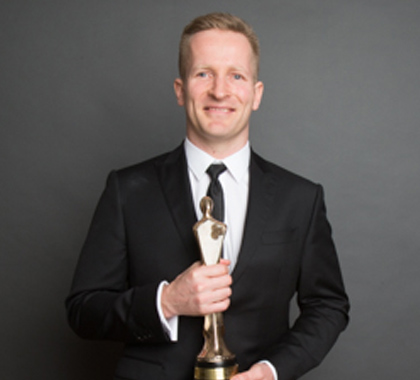 Peter Foott is one of Ireland's leading screen talents in comedy, most notably with his debut feature film 'The Young Offenders', which has earned him international celebration.
Foott's early work for television includes 'Horse Outside' featuring The Rubberbandits, in addition to 'The Republic of Telly,' where he demonstrated his skill as a writer, director and producer from 2009-2011. The homegrown comedy show also garnered him an IFTA Award for Best TV Moment of the Year in 2011.
His diversity across many creative roles has continued with titles such as 'Mattie', created by Pat Shortt, web series 'The Fear', mockumentary 'The Centre' featuring the talents of Katherine Lynch, Jennifer Maguire, Fionn O'Shea and Denise McCormack, to name a few.
In film Foott has progressed from early shorts such as 'The Carpenter and His Clumsy Wife' narrated by Jim Sheridan in 2011 to his debut feature, 'The Young Offenders' in 2016. The title received the highest number of nominations at the 2017 IFTA Film & Drama Awards, including Best Film, Best Director, three nominations for acting talent and Best Script, which Foott received on the night. He was also one of the 2017 Rising Star Nominees in a year when the category was more highly contested than ever.
It shared the award for Best Feature Film at the prestigious Galway Film Fleadh with Darren Thornton's A Date for Mad Mary and has broken box office records. In May 2017 BBC Three announced a six-part comedy series adapting 'The Young Offenders' for the small screen.