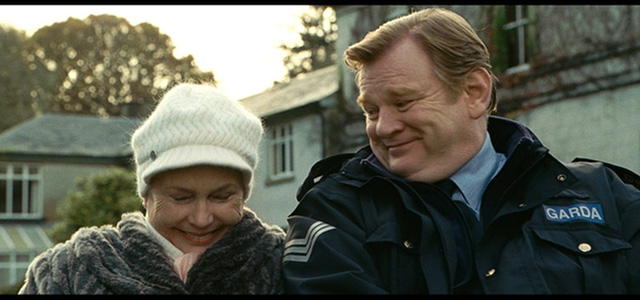 wIN TICKETS TO THE guard - SPECIAL ADVANCED SCREENING
event DETAILS
When:
Wednesday 6th July
Doors 7.30pm
Screening 8pm sharp

Where:
Cineworld, Parnell Street, Dublin 1

All seating is unreserved

Running Time:
95 mins

Cert:
15A

With thanks to Element Pictures Distribution

IFTA has has 25 pairs of tickets up for grabs to a Special Advanced Screening of The Guard, a comedy-thriller by writer-director John Michael McDonagh starring IFTA winning actor and IFTA Member Brendan Gleeson as an unorthodox Irish policeman who joins forces with a straitlaced FBI agent, played by Don Cheadle, to take on an international drug-smuggling gang.

ABOUT THE GUARD
The Guard is a comedy-thriller set on the west coast of Ireland. Sergeant Gerry Boyle is a small-town cop with a confrontational personality, a subversive sense of humour, a dying mother, a fondness for prostitutes, and absolutely no interest whatsoever in the international cocaine-smuggling ring that has brought FBI agent Wendell Everett to his door.
However, despite the fact that Boyle seems more interested in mocking and undermining Everett than in actively working to solve the case, Boyle finds that circumstances keep pulling him back into the thick of it.
Written and directed by John Michael McDonagh (screenwriter of Ned Kelly) and starring Brendan Gleeson (Into The Storm, In Bruges, the Harry Potter series) and Don Cheadle (Traitor, the Oceans films, Hotel Rwanda) as the ill-matched pair of lawmen, The Guard also stars IFTA winning actors Liam Cunningham (Hunger, The Wind That Shakes The Barley) and Fionnula Flanagan (Lost) with David Wilmot (The Tudors), Darren Healy (Savage) and Rory Keenan (Zonad) to name but a few. Crew for the film includes IFTA Members John Paul Kelly (Production Design) and Eimer Ní Mhaoldomhnaigh (Costume Design), and IFTA winning producers Andrew Lowe and Ed Guiney.
To be in with a chance of winning the tickets simply...

1) Like IFTA's Facebook page and or Follow IFTA on Twitter: If you already follow us skip to step two!

Facebook: www.facebook.com/iftaonline
Twitter: www.twitter.com/ifta

2) Answer the following question:

The Guard actor Brendan Gleeson won an IFTA in 2010 for his role in which acclaimed television drama?

(a) Into the West
(b) Into the Storm
(c) Into the Ocean

Send your answers to competitions@ifta.ie along with your name, address, contact number.
The Guard will be released nationwide from 7th July.

Closing date - 10am Tuesday 5 July